Get your taxi at your hotel or Airport
Srinagar to Kargil Taxi
---
Taxi Fare / Rates for
Srinagar to Kargil Taxi
Etios
Toyota Etios - Sedan Cab
Best for Srinagar to Kargil Taxi for up to 3 persons.
Tavera
Standard Muv Cab by Chevrolet
Best for Srinagar to Kargil for up to 7 persons.
Innova
Luxury SUV Cab by Toyota
Best for Srinagar to Kargil Taxi for up to 7 persons.
---
Covid-19 Update for Srinagar to Kargil Taxi Service
In a tweet from Ladakh Tourism Department has urged all tourist weather they are travelling to Ladakh by Road or Air, Should have (Negative Covid-19 RTPCR) test with them.
RPTCR test is mandatory for all Air & Road Tourists.
RTPCR test should be within 72-96 hours of your arrival at Leh/ Kargil.
Hotels and Guest Houses in LEH & KARGIL are put on alert to comply.
 Srinagar to Kargil Taxi – Travel Itinerary
Srinagar to Kargil is about 214 Kms in Taxi the distance is covered in 7 – 8 Hrs including all the on the way Sightseeing's listed below, and the another reason is acclimatization by step by step height rather going to higher altitude in once i.e. by Flight. Srinagar to Kargil Taxi road trip helps you to  adjust to the heights and low oxygen levels.
Itinerary: Pickup from at Srinagar and Transfer to Kargil ( 214 Kms. ) via Sonamarg, have a small stop at Zeropoint at Zojila Pass, Drass Kargil War Memorial and Then night stay in Kargil.   (Trip Ends)
More About Srinagar to Kargil Taxi
When you book the Srinagar to Kargil taxi with Kashmir Rental Car, you can rest assured that you'll be served with the most courteous chauffeurs, your cab will be on time and you will only pay for what you see. With a presence in all cities across Jammu and Kashmir, if there's a travel destination on your mind, Kashmir Rental Car will get you there. Booking a cab for your road trip is as easy as clicking a button. You can book your cab from Srinagar to Kargil by visiting Kashmirrentalcar.com, downloading our mobile app and even giving us a call on 08899564876. Our Srinagar to Kargil cab service gives you the flexibility of paying online before your journey begins, or by cash directly to the driver at the end of your journey.
Reasons to book from Srinagar to Kargil Taxi
We highly recommend covering your journey by hiring our Srinagar to Kargil Taxi. To us, this is the best mode of transport to cover this beautiful stretch of road. By doing so, you will have the full flexibility of taking a detour to a hidden monument, satiate your hunger at a highly recommended restaurant, or can soak in all the scenery along the way. After all, who doesn't get nostalgic when they hit the road and stare out of the car window into the horizon?
Also Read: Srinagar To Leh Road Trip Guide
Srinagar to Kargil Car Rental Options
Need a car at short notice or on a tight budget? We have a range of Taxi Service in Srinagar. You can choose from our Indica, Sedan or Innova variants depending on your need and group size. Need a comfortable car on a long journey? Choose a Sedan. Travelling with a large group of people? We have both Innova 6 and 7 seaters. Need a luxury car for an indulgent vacation? Our Etios and Innova cabs will fit the bill. Rest assured, that when you rent a car from Srinagar to Kargil , you will be comfortable and have the right car type for your travel needs. Below is a summary of our Srinagar to Kargil Taxi hire Rates:
Srinagar to Kargil Taxi Fare
We pride ourselves on the fact that we are 100% transparent in our cab fares from Srinagar to Kargil . The taxi rate from Srinagar to Kargil forOne-Way drop will cost you approximately Rs. 6,000 to Rs. 7,500. Typically, customers book a trip to Kargil for  One-Way. The below table displays the cab fares for One-Way:
| | |
| --- | --- |
| Taxi Type | Taxi Fare Per Day |
| Sedan (Etios) Srinagar to Kargil | Starts from ₹ 7,500 |
| MUV (Tavera) Srinagar to Kargil | Starts from ₹ 8,700 |
| SUV (Innova) Srinagar to Kargil | Starts from ₹ 9,400 |
| Tempo Traveler Srinagar to Kargil | Starts from ₹ 16,000 |
Srinagar Airport  to Kargil Taxi
Kashmir Rental Car provides affordable and reliable taxi services from Srinagar Airport / Hotel  to Kargil . Hire a cab from Srinagar  to Kargil . You can book a taxi like , Etios, Tavera, Innova and Mini coach's like Forece Traveler 13 and 17 seaters maxi cabs for your weekend getaway, holiday destination, honeymoon, family outing, pilgrimage etc. Whether your trains reach on time, our drivers will wait for you at the station well before time, that is our promise of quality.
If you need a updated Ladakh Taxi Union Rates  for 2021
Mr Benhard during Their Srinagar to Leh road trip
MoonLand Srinagar Leh Highway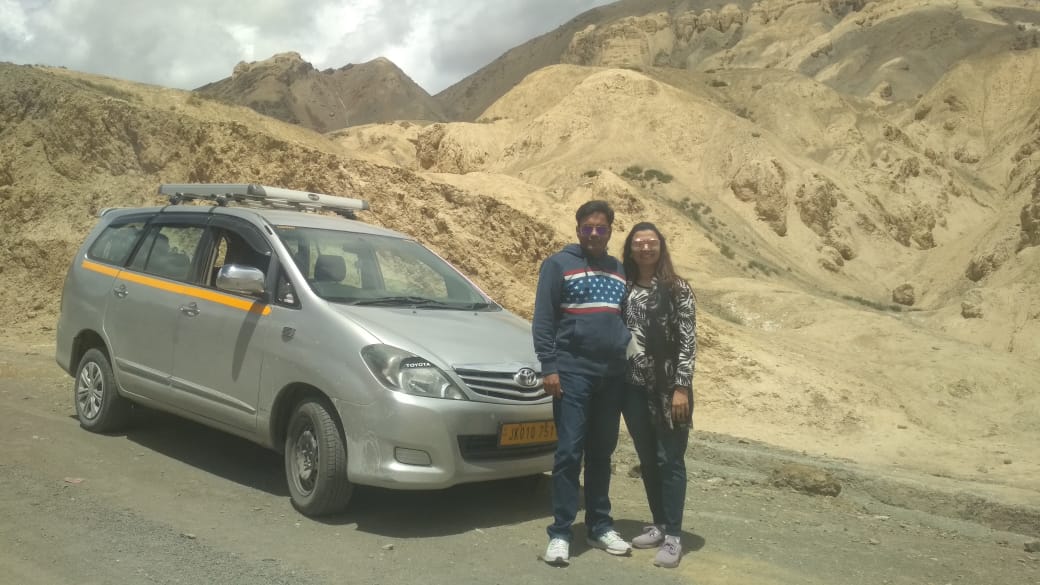 With our Guests from Gujrat @ Moonland
Srinagar to Kargil Taxi Service
---
FAQ ABOUT SRINAGAR TO Kargil TAXI
What are the Covid-19 Guidelines for Kargil Ladakh?
| Title | Description | Start Date | End Date | File |
| --- | --- | --- | --- | --- |
| Order: SOPs/Guidelines for COVID Management in Kargil district. | SOPs/Guidelines for COVID Management in Leh district. | 26/06/2021 | 05/07/2021 | Download PDF |
How can I reach Kargil from Srinagar?
The best way to reach Kargil from Srinagar is by cab,  and takes 10 hrs 13 if your travel nonstop and 2 Days if you want cover all on the way sightseeing's.
The cheapest way to reach Kargil from Srinagar is bus.
The Fastest Way to Reach Kargil is by Flight from Delhi, Jammu to Srinagar International Airport or Leh Kushok Bakula Rimpochee Airport
Nearest Airport Srinagar International Airport (214 Kms) and Leh Kushok Bakula Rimpochee Airport ( 235 Kms)
Nearest Railway Station: Srinagar Railway Station (220Kms)
Is it safe to travel from Srinagar to Kargil ?
Yes, traveling on Srinagar to Kargil highway is completely safe and best way to travel to Kargil ; but there are some high altitude dangerous passes too, like Zojila Pass.
Is Ola/Uber available in Srinagar?
No Ola/Uber Services in Srinagar.
However you can use Kashmir Rental Car for tour or Travel in & Around Srinagar.
Which Pass links Srinagar to Kargil ?
Located at a height of 11,650 feet, Zojila is a strategic pass that provides the vital link between Kashmir Valley and Ladakh
Which route is better for Kargil ?
 Better route for Kargil Ladakh is Srinagar Leh Highway.
When you travel to Kargil via Srinagar Leh Highway, you ascent in altitude in a gradual manner. This means that your body gets more time to get acclimatized for the high altitude of Leh and you feel much better plus relaxed upon reaching there.
Better Acclimatization, Less Health Trouble
How can i book taxi in Srinagar?
The easy way of taxi booking in Srinagar: With Kashmir Rental Car Taxi you can book our taxi for hire in Srinagar in a few minutes with just a phone call on our helpline no. +91 7889-539-008 or +91 8899564876 or a few clicks on our website www.kashmirrentalcar.com