Shrines and Temples in Kashmir
There are tons of Articles about the beauty of Kashmir and travel guides, but we didn't find one about the Shrines and Temples in Kashmir.
Kashmir, paradise on earth, is a place of immense beauty that will never cease to amaze you. This land, bathed in the magnificence of nature has been the source of inspiration for quite a few Saints and Sufis. Bestowed with religious wealth in the form of numerous and allegiance of people professing different faiths, in Kashmir peace and tranquility flow in the gentle breeze that shakes the flowers and trees in beautiful harmony, while making ripples through the lake.
There are numerous sepulchers of saints located in enchanting environs. At these shrines be one with nature and feel close to the Almighty. Some of the Shrines have historical importance in addition to religious significance attached to them. Here you can find Shrines, Gurudwaras & Churches that are visited by thousands of devotees
Also Read: Heritage walk of Srinagar
Shrines in Kashmir
There are not many places like Kashmir in the world where a number of great ascetics have lived and have their Shrines also. These spiritually uplifted souls carved out special place in the hearts of innumerable followers not only in Jammu and Kashmir state but even across the country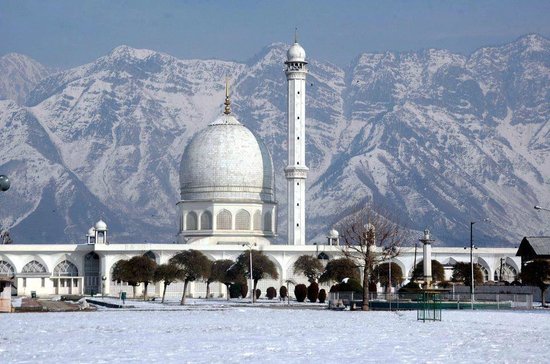 ---
Hazratbal Shrine-
A place of utmost serenity and calm, Hazratbal shrine is considered to be Kashmir's Holiest Muslim shrine and it is situated on the left bank of Dal lake, Srinagar. Step inside and you will be enveloped in a tranquil hue of peace while admiring the pristine white marble elegance of Hazratbal as it is reflected in the waters of the lake. Hazratbal contains a relic, the Moi-e-Muqqadas, believed by many Muslims of Kashmir to be a Hair of the Islamic prophet Muhammad (peace be upon him).
The Hazratbal shrine is a marble structure that was specifically constructed by Muslim Auqaf Trust with the objective  of preserving the Prophet's hair,  this piece of hair arrived in Kashmir 1699.   The Moi-e-Muqqadas, is usually on public display inside a casket on certain sacred and holy days. Tour and travel to the Hazratbal gives you an opportunity to participate in colorful and vibrant fairs that are held Hazratbal every year, the most important among these is Shab-e-Mehraj.
---
Makhdoom Sahib Shrine (Sultan-ul-Afreen)
Hari Parbat on which the Makhdoom Sahib Shrine is located, is one of the holiest places in Kashmir. Surrounded by almost orchards, it makes for a lovely sight during April when the trees blossom, heralding the advent of spring in Kashmir.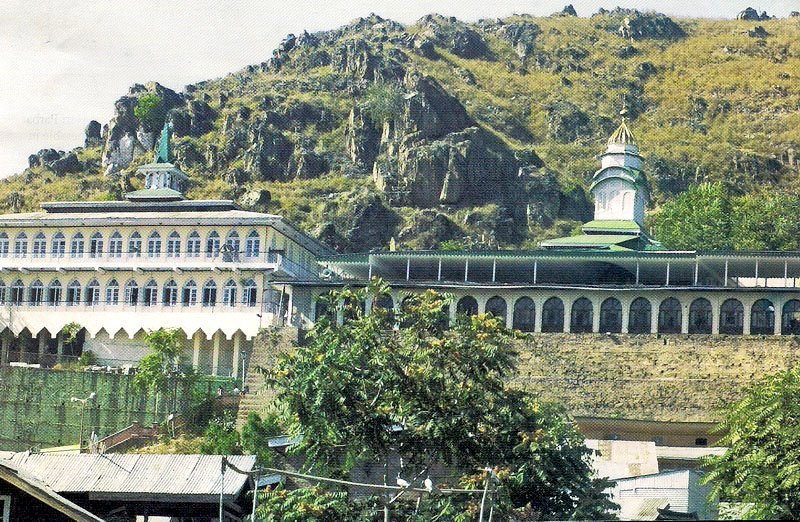 The Shrine rests below a magnificent Mughal fort that crowns the hill. This fort gives a magnificent top view of Makhdoom Sahib Shrine and falls on the southern side of the hill. Beauty of this Shrine is truly enchanting and invites devotees on a large scale irrespective of their religion. This double storied mosque is an invigorating structure and is designed with many pillars, high connecting false ceiling and conical roofs. The mosque has a high peak on top finished with descending roof sizes. The Shrine also connects to the famous Dal Lake and a number of stone steps take you there. The exteriors of this mosque are a striking example of Mughal architectural design. Some parts of the shrine is open throughout the year. irrespective of the extreme weather conditions of this place.
---
Jamaia Masjid Srinagar
Historic Facts and Figures
Built in 1400 A.D. by Sultan Sikandar
Believed to be a sacred shrine for Muslims
Construction is based on Indo-Saracenic architecture
Extended premises by Sikandar's Son Zain-ul-Abidin
Construction was destructed by fire thrice in the years 1479, 1503 and 1674
Last re-structured to retain original look of Indo-Saracenic design
Maharaja Pratapsingh is remembered fondly due to his contribution towards re-construction of Jamia Masjid and his financial support to do so
Fondly known as Jama Masjid
Occupies a built up area of 384 ft by 381 ft.
Jama masjid is surrounded by green luscious gardens and lanes to make it look elegant
About 1 lakh people are seen offering prayers at this mosque during peak hours
Tourists throng the place throughout the year.
After the extension of this mosque it was once destructed in 1479 due to fire and then re-built. But in 1503 during the supremacy of Mughal Emperor Jehangir, the mosque faced another fatal destruction caused because of fire. Again, this was re-constructed by an architect based in Kashmir who was also a historian named Malik HaiderChaudara. Now, this was the third time the mosque had to face an unfortunate destruction caused fire. This was during the rule of Aurangzeb. However, lastly these were repaired to reflect original architecture and to retain historic value of this mosque that is carried through centuries.Rich Heritage
The fact that this mosque was built in 1400 A.D. proves the ancient heritage of this mosque. This mosque is reflective of Islamic art along with cultural history, both of which add to its charm. The mosque is proud testimony to legacy of architecture in India. It also showcases the rich culture of Islamic religion. This mosque has a fountain at the entrance and it is built in a square shape. A green park surrounding the main shrine adds to the beauty of this mosque. The four cornered minars, pyramidal roofs and pinnacles add to the spectacular view of Jamia Masjid mosque in Kashmir.
Book your Taxi in Srinagar for Old city tour
---
Temples in Kashmir
---
Shankracharya Temple
A beautiful Shiva temple situated on a picturesque location on the Gopadari Hill on the South East Srinagar. this temple is situated at a height of 1100 feet above the Srinagar City.
The name of of the temple is after the great philosopher Shankaracharya who visited the valley about ten centuries ago. The temple is built on a high octagonal plinth approached by a flight steps.
Shankracharya is detached ridge of igneous rock to the south-east of Srinagar, separated from the Shalimar range by the Aita Gap. The summit of the hill is crowned with picturesque edifice.
Also Read: Amarnath Yatra
---
Kheer Bhawani
Kheer Bhawani is a temple dedicated to the Goddess Kheer Bhawani (orginally just Bhawani) and constructed over a sacred spring which flows from west to the east.
Another interesting fact about the holy spring is, that it changes its color with various hues of red, pink, orange, green, blue, white, etc.
Which was noted by Abul Fazal and Swami Vivekananda. The worship of Kheer Bhawani is popular among the Hindus of Kashmir. The temple is situated at a distance of 14 miles east of Srinagar near the village of Tul Mul. Surrounding the temple is an area converted by smooth and beautiful stones, Chinar trees and streams. Swami Rama Tirtha and Swami Vivekananda also visited here to have the darshan of the place.
As per the legend it is beleived that Ravana, after his worship of the Goddess, offered her Kheer (rice pudding), which she accepted and since then it is called Kheer Bhawani.
---
Gurudwara in Srinagar
Guru Nanak passed through Jammu and Kashmir during his journey towards Mansarovar and Kalash,
and on his return stayed at various places which are now marked with many gurudwaras.
A gurudwara means "the doorway to the Guru", can be found in Kashmir surrounded by magnificent mountains and fed by many rivers.
It is renowned for its natural beauty and quaint lifestyle.
---
Chatti Padshahi Srinagar.
Gurudwara Chatti Padshahi is a very important religious place which was constructed in the memory of 6th Guru Hargobind Sahib ji (1595-1646),
Guru Hargobind Sahib ji
who stayed at this place in 1616 AD when he was on the way to Kashmir along with the Caravan of Emperor Jahangir, it is situated outside the Hari Parbat Forts southern gate and form an important part of the relgious tourism in the city.
According to some sources it is believed that the Seventh Guru Har Rai also worshiped this Gurudwara. The religious place is visited by pilgrims from across the nation. In recent times, a larger building was constructed for the
Explore: Tourist Places in Srinagar